Thursday, January 31st, 2008
Now the third volume is ready. Here is PDF file for free download:
Windows Server 2003™ x86 Complete Memory Dump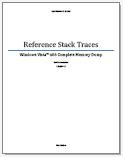 Surprisingly it is almost twice less in the number of pages than the first volume for Vista x86.  
Printed versions are available for purchase at the nominal price to cover manufacturing costs:
The second edition will contain annotations and comments.

- Dmitry Vostokov @ DumpAnalysis.org -