Sunday, April 15th, 2012
After 4 years in print this bestselling title needs an update to address minor changes, include extra examples and reference additional research published in Volumes 2, 3, 4, 5 and 6.
Title: Memory Dump Analysis Anthology, Volume 1
Author: Dmitry Vostokov
Publisher: OpenTask (Summer 2012)
Language: English
Product Dimensions: 22.86 x 15.24
Paperback: 800 pages
ISBN-13: 978-1-908043-35-1
Hardcover: 800 pages
ISBN-13: 978-1-908043-36-8
The cover for both paperback and hardcover titles will also have a matte finish. We used A Memory Window artwork for the back cover.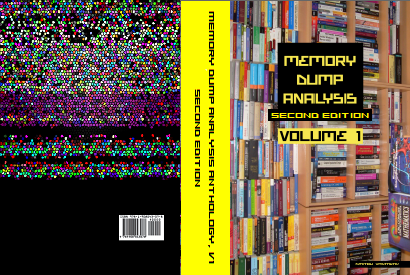 - Dmitry Vostokov @ DumpAnalysis.org + TraceAnalysis.org -