Saturday, July 10th, 2010
Being a software engineer, the author penetrated a software technical support department of a major software company rising to a management position. There he started collecting various management bits and tips promising everyone to write a management book. After moving back to engineering he became a director of several software research, education, publishing and software behavior analysis consultancy institutions including a museum. This book is an anthology of selected and edited blog posts from his Management Bits and Tips blog.
What this book has to do with the crash dump analysis then? Considering metaphorically an organization as a software machine, teams as processes and individuals as threads the author had applied his unique knowledge of software crashes and hangs to organizational project failures.
Title: Management Bits: An Anthology from Reductionist Manager
Author: Dmitry Vostokov
Publisher: OpenTask (September 2010)
Language: English
Product Dimensions: 19.8 x 12.9
Paperback: 100 pages
ISBN-13: 978-1906717131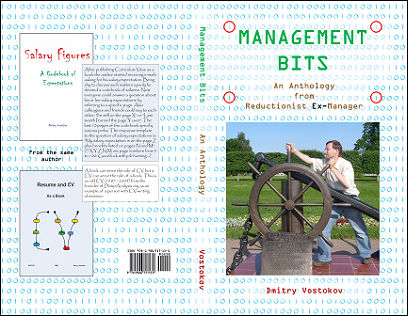 - Dmitry Vostokov @ DumpAnalysis.org + TraceAnalysis.org -