Sunday, October 18th, 2015
Sometimes we need to know about client-server interaction between components, threads, or processes in order to find out where the problem started. For example, if we have Error Message or Discontinuity in one PID Adjoint Thread of Activity, and we know that that process uses API from another PID, we can look at the latter PID Adjoint Thread to see if there are any Error Messages or other problems. The failure in the server can propagate to the client as illustrated in the following diagram: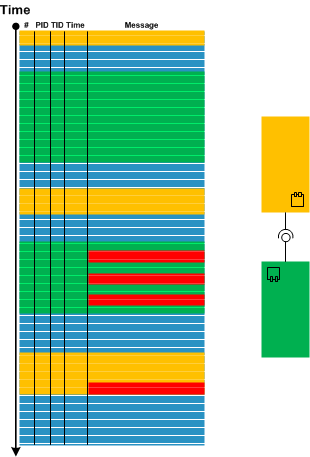 We call this pattern Coupled Activities similar to Coupled Processes memory analysis pattern. It can help in Intra- and Inter-Correlation analysis, for example in choosing adjoint threads from Sheaf of Activities.
- Dmitry Vostokov @ DumpAnalysis.org + TraceAnalysis.org -