Friday, May 4th, 2007
Finally I've managed to create a slimmer version 3.0.1 with many resource consumption improvements:
Built database occupies 3.7 times less disk space
2 times faster load
5 times less memory consumption
Additional improvements:
"FIXFinder" feature: shows folders where you can find newer modules
Search can be restricted to folder names containing sub-string (for example, "release" or "full" symbols only)
Ready to copy and paste folder names (for WinDbg Symbol File Path dialog) – exe/dll/sys subfolders are stripped off
Additional minor interface improvements (larger screen, ellipsis in paths during build, better keyboard focus handling)
Screenshot: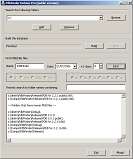 The tool has been tested with more than 1,000,000 PDB files.
PDBFinder Deluxe Pro 3.0.1 and its documentation can be downloaded from Citrix support web site (requires free registration).
The motivation behind the tool is explained in my previous post: Cons of Symbol Server.
- Dmitry Vostokov -