Wednesday, April 23rd, 2008
In the past two hours I noticed visitors from this URL:
http://finance.google.com/finance?q=AAPL
Checked it and found that my previous post with secondary bugcheck callback data from my Mac Mini running Windows Vista hit complex RSS feed triggers. I saved the picture of this historic moment. Click on it to enlarge: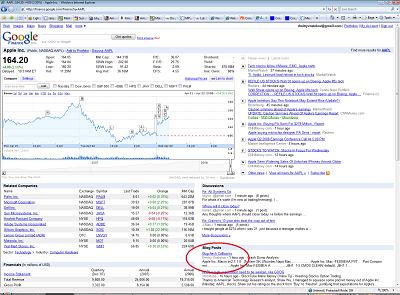 Has anyone studied the influence of crash dumps on stock market volatility and crashes? Perhaps there is some similarity between OS thread exceptions and share price trends and it is possible to metaphorically map crash dump analysis patterns to finance domain like I'm doing for Project Failure Analysis.

- Dmitry Vostokov @ DumpAnalysis.org -