Hmm, I was looking at Google Analytics stats for dumpanalysis.org and here is the list of 154 visitor countries sorted by the decreasing number of visits (data for March - August, 2008):
United States
United Kingdom
India
Canada
Germany
China
Russia
France
Japan
South Korea
Ireland
Australia
Taiwan
Netherlands
Israel
Sweden
Italy
Brazil
Spain
Singapore
Romania
Norway
Ukraine
Belgium
Czech Republic
Switzerland
Poland
Denmark
Malaysia
Finland
Turkey
Austria
New Zealand
Hong Kong
Portugal
Argentina
South Africa
Belarus
Greece
(not set)
Philippines
Hungary
Bulgaria
Mexico
Slovakia
Malta
Serbia
Thailand
Croatia
Estonia
Vietnam
Lithuania
Slovenia
Bolivia
United Arab Emirates
Iran
Latvia
Indonesia
Pakistan
Iceland
Saudi Arabia
Egypt
Serbia and Montenegro
Chile
Colombia
Uruguay
Luxembourg
Peru
Morocco
Kazakhstan
Costa Rica
Jordan
Venezuela
Moldova
Cyprus
Jamaica
Algeria
Ecuador
Panama
Bangladesh
Puerto Rico
Sri Lanka
Bosnia and Herzegovina
Lebanon
Guatemala
Qatar
Kuwait
Tunisia
Mongolia
Syria
Guinea
Dominican Republic
Macedonia
Uzbekistan
Nepal
Bahrain
El Salvador
Palestinian Territory
Mauritius
Armenia
Barbados
Trinidad and Tobago
Georgia
Oman
Brunei
Nigeria
Kenya
Bermuda
Yemen
Cuba
Uganda
Bahamas
Netherlands Antilles
Iraq
Reunion
Maldives
Ghana
Ivory Coast
U.S. Virgin Islands
Guyana
Ethiopia
Andorra
Liechtenstein
Sudan
Namibia
Dominica
Saint Lucia
Seychelles
Angola
Guadeloupe
Libya
Paraguay
Cayman Islands
Gibraltar
Aruba
Laos
Somalia
New Caledonia
Zambia
Saint Vincent and the Grenadines
Montenegro
Congo - Kinshasa
Tanzania
Fiji
Azerbaijan
Faroe Islands
Botswana
Antigua and Barbuda
French Guiana
Myanmar
Grenada
Cambodia
Kyrgyzstan
Greenland
Here is the relative graph: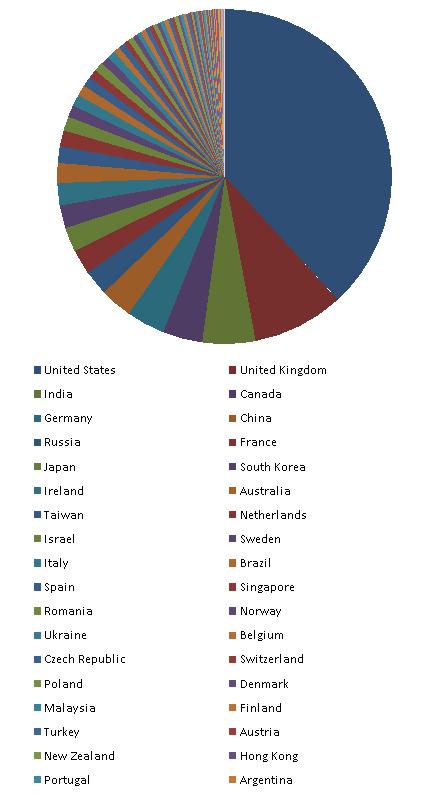 Another possible reason why North Korea is not on the list could be the total absence of Internet even in government and military institutions. Also note the presence of (not set) territory on the list. I suspect these are spies and other security and forensics professionals hiding their true location.
Other countries where people don't know about memory dumps are:
Nicaragua
Honduras
Senegal
Western Sahara
Guinea-Bissau
Mauritania
Sierra Leone
Liberia
Mali
Burkina Faso
Benin
Niger
Chad
Cameroon
Gabon
Congo - Brazzaville
Central African Republic
Zimbabwe
Mozambique
Malawi
Madagascar
Afghanistan
Turkmenistan
Tajikistan
Papua New Guinea
They are depicted in red:

I'm thinking now about Memory Dump Awareness Index (MDAI) to assign to each country :-) 
- Dmitry Vostokov @ DumpAnalysis.org -