A customer reports application.exe crashes and you ask for a dump file. You get a dump, open it and see the dump is not from your application.exe. You ask for print spooler crash dump and you get mplayer.exe crash dump. I originally thought to call it Wrong Dump pattern and place it into patterns category but after writing about Zippocricy I clearly see it as anti-pattern. It is not a rocket science to check process name in a dump file before sending it for analysis:
Load the user process dump in WinDbg
Type command .symfix; .reload; !analyze -v and wait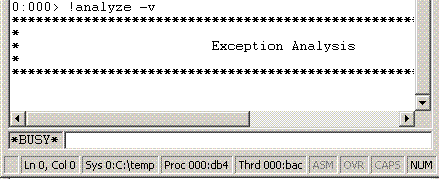 until WinDbg is not busy analyzing
Find PROCESS_NAME: in the output. You get something like:
PROCESS_NAME: spoolsv.exe
You can also use dumpchk.exe from Debugging Tools for Windows.
I'm also writing a new version of Citrix DumpCheck Explorer extension that will include process name in its output.  
Another example is when you ask for a complete memory dump but you get a kernel dump or you get various mini-dumps. Fortunately DumpCheck extension can  warn users before they submit a dump.
- Dmitry Vostokov -