Album cover and songs list from Narasimha Vedala:
DUMPSTATIC
Dr. Debugalov Feat.
Assembly Crooks and
E.I.P. Wailers.
1. Mistah Dumpstatic Feat. E.I.P Wailers.
2. Attached to your pros-ass.
3. I put a dump on you.
4. Be my debugger.
5. When push comes to shove, call Debugalov.
6. Pop ECX Feat. Assembly Crooks.
7. You corrupted my memory Feat. E.I.P Wailers.
8. Dark side of the dump.
9. Sweet Dump o'mine.
10. Optimize your soul.
11. Load address blues Feat. Assembly Crooks.
12. Good bye, Kernel.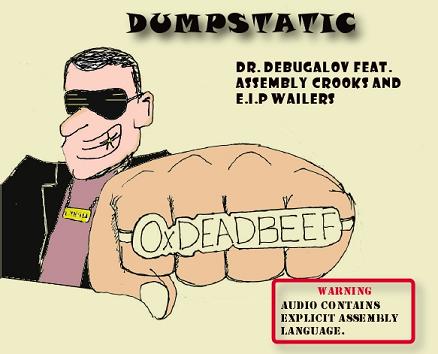 Some music for this album will be written with the help of Dump2Wave technology

Stay statically tuned to further announcements.
- Dmitry Vostokov @ DumpAnalysis.org -