WindowHistory tool has been significantly rewritten and improved to make it better for troubleshooting and debugging GUI. What's new in this version:
Real-time support: windows are tracked as they are created and destroyed, their position and size are changed, etc.
Dramatically improved speed, no matter how many windows you have in your session WindowHistory is fast and has minimum impact on the system (O(log(n)))
Better formatted output
Fixed bugs found in previous version
Easter egg (hold <Shift> key and click on About button)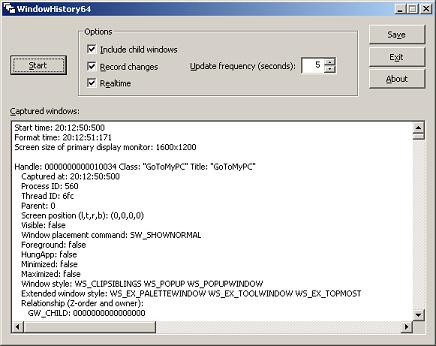 It is a native Windows application written in C++/STL/MFC/Win32.
There are two packages: WindowHistory32 and WindowHistory64. Both can be downloaded from Citrix support web site:
To use download, unpack and run WindowHistory(64).exe.
To uninstall just remove files.
Note: although 32-bit version will run on x64 Windows too, real-time support for 64-bit application windows will not be available. For x64 Windows please use WindowHistory64 which correctly handles both 64-bit and 32-bit application windows.
The following UML collaboration diagram depicts schematically how WindowHistory64 gets notifications from 32-bit windows: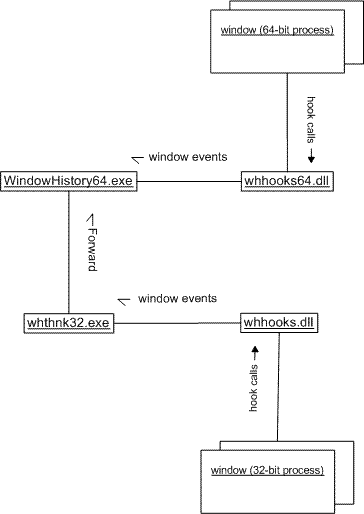 If you want to track window messages and processes simultaneously run it with MessageHistory and ProcessHistory tools.
 - Dmitry Vostokov -