Feeling nostalgic about pre-Vista times I recalled that one month before upgrading my Windows XP to Vista I saved the copy of Dr. Watson (drwtsn32.exe). Of course, during upgrade, drwtsn32.exe was removed from system32 folder. Now I copied it back and set it as the default postmortem debugger from the elevated command prompt: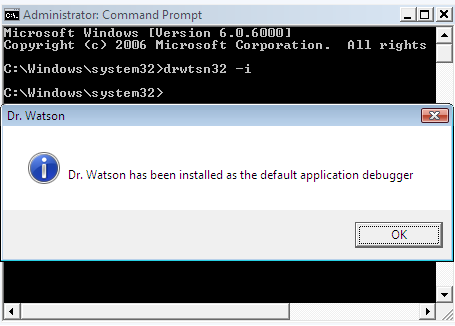 When I looked at the registry I found the correctly set key values:
HKEY_LOCAL_MACHINE\SOFTWARE\Microsoft\Windows NT\CurrentVersion\AeDebug
Debugger=drwtsn32 -p %ld -e %ld -g
Auto=1
Auto=1 means do not show the error message box, just go ahead and dump the process. Actually with Auto=0 Dr. Watson doesn't work on my Vista.
Also I configured Dr. Watson to store the log and full user dump in c:\DrWatson folder by running drwtsn32.exe from the same elevated command prompt: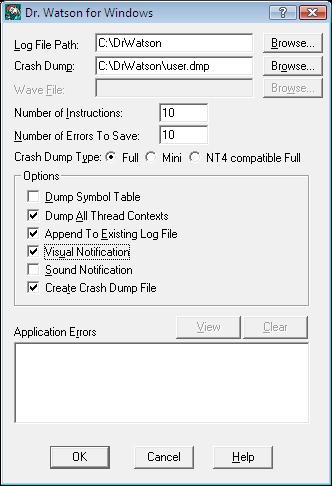 Next I launched TestDefaultDebugger and hit the big crash button. Access violation happened and I saw familiar "Program Error" message box:

The log was created and the user dump was saved in the specified folder. All subsequent crashes were appended to the log and user.dmp was updated. When I opened the dump in WinDbg I got the following output:
Loading Dump File [C:DrWatsonuser.dmp]
User Mini Dump File with Full Memory: Only application data is available
Comment: 'Dr. Watson generated MiniDump'
Symbol search path is: SRV*c:\websymbols*http://msdl.microsoft.com/download/symbols
Executable search path is:
Windows Vista Version 6000 UP Free x86 compatible
Product: WinNt, suite: SingleUserTS
Debug session time: Sat May 19 20:52:23.000 2007 (GMT+1)
System Uptime: 5 days 20:00:04.062
Process Uptime: 0 days 0:00:03.000
This dump file has an exception of interest stored in it.
The stored exception information can be accessed via .ecxr.
(1f70.1e0c): Access violation - code c0000005 (first/second chance not available)
eax=00000000 ebx=00000001 ecx=0012fe70 edx=00000000 esi=00425ae8 edi=0012fe70
eip=004014f0 esp=0012f8a8 ebp=0012f8b4 iopl=0 nv up ei ng nz ac pe cy
cs=001b ss=0023 ds=0023 es=0023 fs=003b gs=0000 efl=00010297
TestDefaultDebugger!CTestDefaultDebuggerDlg::OnBnClickedButton1:
004014f0 c7050000000000000000 mov dword ptr ds:[0],0 ds:0023:00000000=???????
Therefore I believe that if I saved ntsd.exe before upgrading to Vista I would have been able to set it as a default postmortem debugger too.
- Dmitry Vostokov -